Requested Strip:
Monday, August 22, 2016
* * * WISH FOR MY BOOK! (Nukees:d/dx), not selling at Plan 9! * * *


Copyright © 2016 Darren Bleuel Redistribution in whole or in part prohibited except by permission
---
Comics Navigation


The first Strip


Previous Strip

Next Strip


Today's Strip
COMIC TRANSCRIPTION: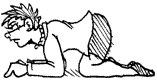 Daany: I have another idea that will not require you to follow a simple instruction.
Gav: Condescending, but appreciated.

Danny: We will first use the teleporter to skip beyond the moment back to which you will travel, relieving you of the need to observe what has not yet happened.
Gav: I can't even PRETEND to follow that.

Danny: Just TRUST me?

Danny: It is a brilliant plan you have, Gav. But just so I am clear on the concept, let me write down, step by step, what I think you are about to attempt.
Gav: Well... if only for the historians.