Requested Strip:
Friday, August 19, 2016
* * * WISH FOR MY BOOK! (Nukees:d/dx), not selling at Plan 9! * * *


Copyright © 2016 Darren Bleuel Redistribution in whole or in part prohibited except by permission
---
Comics Navigation


The first Strip


Previous Strip

Next Strip


Today's Strip
COMIC TRANSCRIPTION: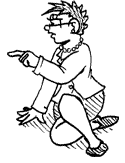 Danny: This plan will require precise timing. The time machine only allows you to affect a single past "episode," typically about three to four quips.
What's a quip?

Danny: THAT's a quip.
Gav: Quips are what?
Also, you should try not to meet yourself.

Gav: Fine. We'll just travel back to now and use the teleporter while we're over here.
Danny: I suppose that will work but you will need to now immediately react to seeing yourself.

Gav: What? Why? Where am I?

Danny: Or we can ask someone who can understand simple directions.
Girl off screen: I can!
Girl off screen: Me too!
Girl off screen: Untie us, damnit!
Gav: OH! A quip!