ORIGINAL ANNOUNCEMENT:
So I'm going to Burning Man this year, with a hot blonde nuclear chemist girl. We're going to be staying in a camp known as "Get Lost" with some chemist friends of hers. They have been kind enough to let me join, despite offering nothing to their grand fire-beathing pieces of artwork, their supplies, their "art car," their "high sound" equipment (translation: remember to bring earplugs). In other words, I'm a total freeloader.
Well, help me change all that! I've decided to help raise money for their camp by holding a Nuclear Burn Raffle! And everyone gets a prize!
While at Burning Man, I'll be drawing a desktop wallpaper/print of members of the Nukees' crew at Burning Man. I plan to spend at least 3-4 hours drawing it, and another few hours colorizing it. You can buy a high resolution copy of this full-color piece for $5, suitable for display as a wallpaper on your desktop or for printing and display on your real wall. And your purchase enters you into a raffle to win the original black and white drawing!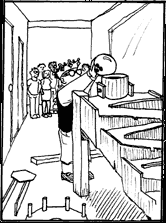 What will this one-of-a-kind piece of artwork look like? Who can know? I won't know until I get there. But you can imagine it'll be good. After all, you may remember Gav's "Danny Trap" in which it appears he was constructing a life-sized mousetrap game? Well, as an example of what goes on at Burning Man, last year a group actually built such a thing! It's an engineer's dream!
Thus, my artwork is likely to be inspired by the most intriguing piece of engineering marvel that I witness at said event. Perhaps with Gav stealing it, or Danny "improving" it, or whatnot. Let your imagination run wild!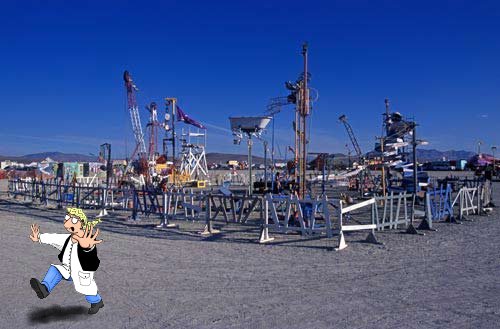 You can enter the raffle as often as you wish, but you'll only get one high-res wallpaper. 100% of the proceeds will be donated to the "Get Lost" camp for their direct use in creating flaming works of art.
[RAFFLE CLOSED -- WINNER TO BE ANNOUNCED]
Raffle will be open for only one week so buy your wallpaper/tickets now!
The last day to enter will be Monday, August 7. Depending on how much money this raises, I may opt to sell additional "lesser" pieces by auction or at fixed rates as well. However, my major effort will be spent on this particular piece. As you may know, I never normally have any free time to create original art for sale, so this is really a once-in-a-decade type of opportunity.
Winner will be notified by email (so make sure yours is correct). Winner will be annouced publicly on August 8. Prize will be awarded upon completion by Darren, soon after Labor Day (which is the last day of Burning Man).

gav@nukees.com